FATF Overview
The Financial Action Task Force (FATF) is the world's leading regulator against illicit financial behavior. The FATF issues non-legal guidances (called Recommendations) that they expect their 200+ member jurisdictions to implement or face punitive actions.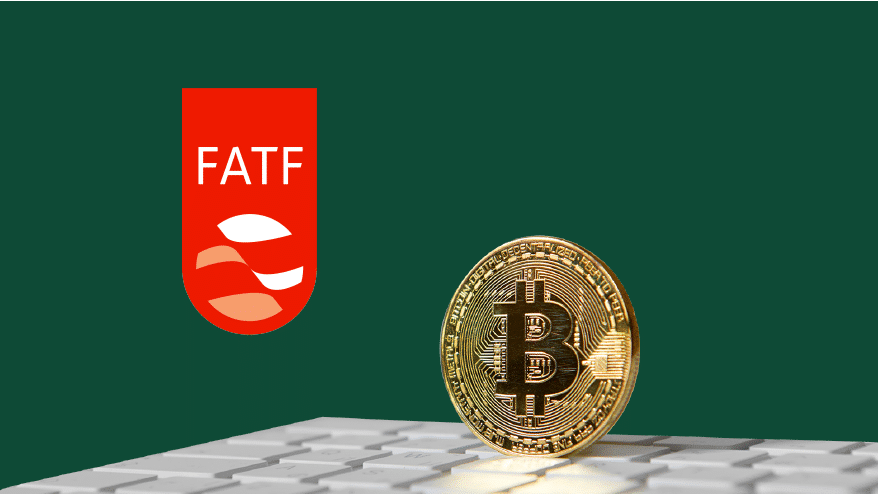 The FATF was mandated by the G7 in 1989 to create global Anti-Money Laundering (AML) and Combating the Financing of Terrorism(CFT) policies and frameworks. These guidelines provide an international infrastructure that connects global finance, law enforcement, criminal justice systems and facilitates cooperation between authorities worldwide.
The FATF's main policies center around their Forty Recommendations on Money Laundering (1990) and the Nine Special Recommendations on Terrorism Funding in 2001.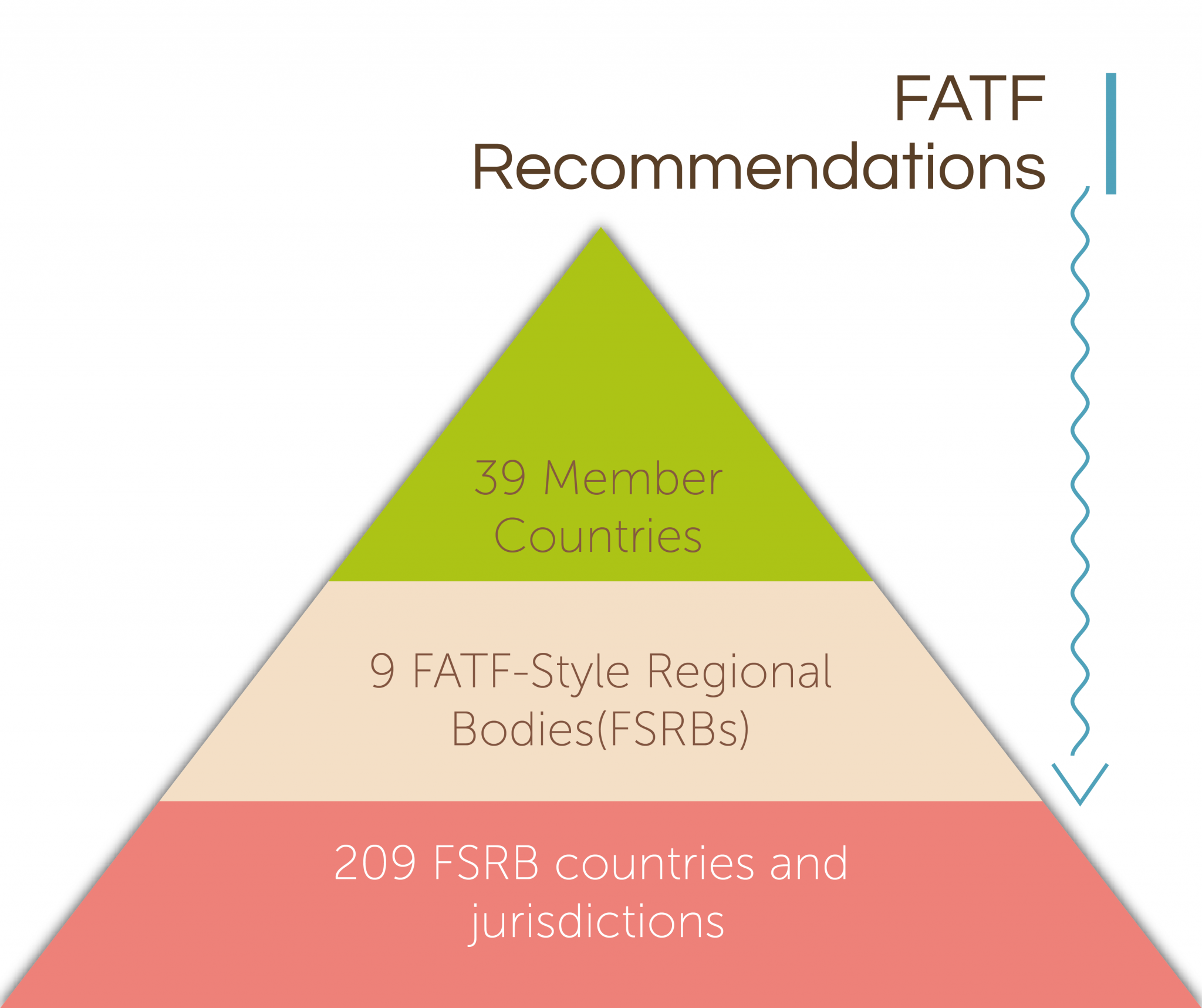 While the recommendations are not legally binding, countries are expected to toe the official FATF line and implement the latest recommendations where possible. If not, they face being added to the "Non-Cooperative Countries or Territories" (NCCTs), better known as the FATF Blacklist, which is a quick way of getting ostracized from international trade.
Of particular interest to the virtual asset industry is a new interpretation in 2019 to Recommendation 16, the so-called crypto travel rule, which crypto assets will have to adhere to after June 2020. Read more about it here.
What are the FATF Standards?
The FATF Standards comprise both the taskforce's Recommendations (the global AML/CFT standards) and Methodology that assesses how effective countries AML/CFT systems are.
These include: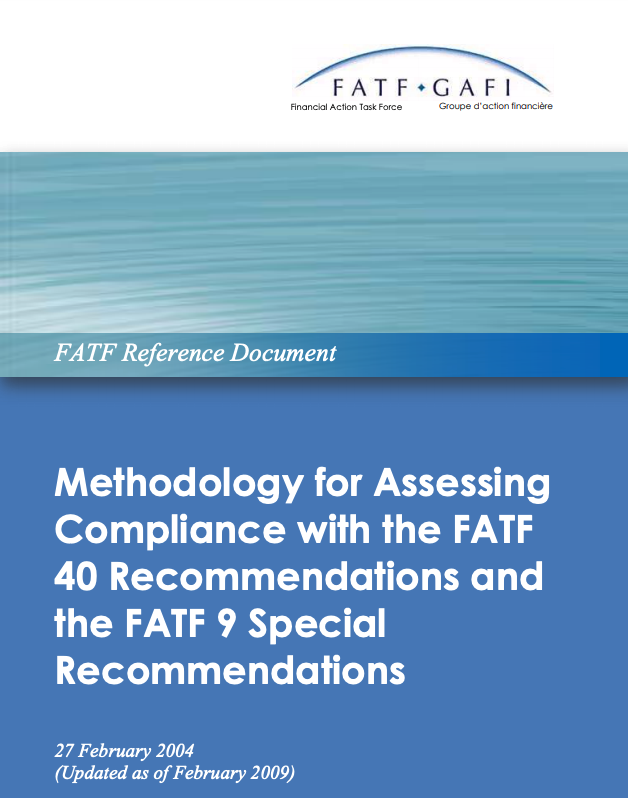 40 Recommendations on Money Laundering (issued in 1990)
9 Special Recommendations on Terrorism Funding (issued in 2001)
Interpretive Notes to various Recommendations (periodic updates)
FATF Glossary definitions
The 40+9 Recommendations (also called 40+IX Recommendations) and their interpretive notes are together referred to as the FATF Standards, which is considered the global standard in AML/CFT regulation.
What are the FATF's 40 Recommendations about? 
The FATF's 40 Recommendations are non-binding guidances that target specific areas in which money launderers, terrorists and other criminals conduct illicit financial behavior.
The 40 Recommendations primarily focus on money laundering but also provide guidelines and initiatives to help Financial Investigative Units (FIUs) and other AML/CFT agencies combat the proliferation of criminal financial actions.
Below is a list of the FATF's 40 Recommendations, with broad categories:
AML/CFT POLICIES AND COORDINATION
Recommendation 1: Assessing risks and applying a risk-based approach
Recommendation 2: National cooperation and coordination
MONEY LAUNDERING AND CONFISCATION
Recommendation 3: Money laundering offense
Recommendation 4: Confiscation and provisional measures
TERRORIST FINANCING AND FINANCING OF PROLIFERATION
Recommendation 5: Terrorist financing offense
Recommendation 6: Targeted financial sanctions related to terrorism and terrorist financing
Recommendation 7: Targeted financial sanctions related to proliferation
Recommendation 8: Non-profit organizations
PREVENTIVE MEASURES
Recommendation 9: Financial institution secrecy laws
Recommendation 10: Customer due diligence
Recommendation 11: Record-keeping
Recommendation 12: Politically exposed persons
Recommendation 13: Correspondent banking
Recommendation 14: Money or value transfer services
Recommendation 15: New technologies
Recommendation 16: Wire transfers
Recommendation 17: Reliance on third parties
Recommendation 18: Internal controls and foreign branches and subsidiaries
Recommendation 19: Higher-risk countries
Recommendation 20: Reporting of suspicious transactions
Recommendation 21: Tipping-off and confidentiality
Recommendation 22: DNFBPs: customer due diligence
Recommendation 23: DNFBPs: Other measures
TRANSPARENCY AND BENEFICIAL OWNERSHIP OF LEGAL PERSONS AND ARRANGEMENTS
Recommendation 24: Transparency and beneficial ownership of legal persons
Recommendation 25: Transparency and beneficial ownership of legal arrangements
POWERS AND RESPONSIBILITIES OF COMPETENT AUTHORITIES AND OTHER INSTITUTIONAL MEASURES
Recommendation 26: Regulation and supervision of financial institutions
Recommendation 27: Powers of supervisors
Recommendation 28: Regulation and supervision of DNFBPs
Recommendation 29: Financial intelligence units
Recommendation 30: Responsibilities of law enforcement and investigative authorities
Recommendation 31: Powers of law enforcement and investigative authorities
Recommendation 32: Cash couriers
Recommendation 33: Statistics
Recommendation 34: Guidance and feedback
Recommendation 35: Sanctions
INTERNATIONAL COOPERATION
Recommendation 36: International instruments
Recommendation 37: Mutual legal assistance
Recommendation 38: Mutual legal assistance: freezing and confiscation
Recommendation 39: Extradition
Recommendation 40: Other forms of international cooperation
What are the FATF 9 Special Recommendations on Terrorist Financing?
The 9 Special Recommendations (also known as Recommendations IX) acts in tandem with the 40 Recommendations as a simple framework to aid the detection, prevention, and eradication of terrorism funding.
The 9 Special Recommendations are:
Ratification and implementation of UN instruments
Criminalizing the financing of terrorism and associated money laundering
Freezing and confiscating terrorist assets
Reporting suspicious transactions related to terrorism
International cooperation
Alternative remittance
Wire transfers
Non-profit organizations
Cash couriers
(Click here for a detailed discussion of each special recommendation)
What are The FATF's Interpretive Notes?
In the world of financial crime and AML/CFT transgressions, changes happen very fast and are often tied to technological advances, such as blockchain and cryptocurrency technology.
Therefore, the FATF needs to periodically review its Recommendations and make necessary changes to close loopholes and protect the integrity of the Standards.
There are currently nearly 30 interpretive notes that have been issued to complement the FATF Recommendations. Specifically for the virtual asset industry, the FATF's Interpretive Note to Recommendation 15, paragraph 7(b)-R16, the so-called FATF's "crypto travel rule" caused a seismic shift in how the industry is to be regulated in 2020 and beyond.
For a full list of FATF Interpretive Notes, click here. 

Written by Werner Vermaak