The 2020 edition of the V20 Summit was held virtually last week, once again bringing together key blockchain stakeholders, government officials, regulators, virtual asset service providers (VASPs), and technical solution providers (TSPs) to discuss crypto regulations.
Promoted by this year's rallying slogan "Define the Future", the V20 seeks to create an industry response to the global anti-money laundering (AML) watchdog, the Financial Action Task Force (FATF)'s regulatory requirements, most notably the Recommendation 16 "Travel Rule".
The three-day virtual event took place from November 16 – 18 2020 to build on the groundwork laid down by last year's inaugural summit held in Osaka, Japan last year.
V20 Agenda Overview
The first day of the summit provided a platform where regulators and FATF discussed their views on the association of virtual assets with money laundering and terrorist financing (ML/TF) risks.
The second day was only reserved for VASPs, giving the industry representatives a private space to address the concerns raised by regulators.
The final day largely focused on industry-specific discussions, technical solution providers, and the submission of key takeaways to regulators.
CoolBitX Managing Director International and Sygna spokesman Elsa Madrolle participated on Day 3 of the event in a panel discussing the progress that FATF Travel Rule technical solution providers are making.
Industry critical of FATF regulations
Sian Jones, the respected industry organizer, JWG convener and senior partner at XReg Consulting, criticized the FATF's intervention in crypto, imploring it to consider developing new approaches to manage money laundering and terrorist financing risks associated with virtual assets.
"…The tried and tested methods work, after a fashion, in the traditional world of money. Arguably, they can be made to sort of fit the intermediated crypto world. They do not necessarily fit a DeFi world where they are not fit for purpose."
Jones further stated that FATF doesn't seem to fully understand that cryptocurrencies were not created to necessarily circumvent authority and break laws, but to rather "disintermediate traditional finance".
V20 connects regulators and industry assocations
Regulatory participants included several respected regulatory bodies such as the U.S. Department of Treasury, the Financial Crimes Enforcement Network (FinCEN), Japan Financial Financial Services (JFSA) and the Monetary Authority of Singapore (MAS).
Global Digital Finance (GDF), the influential blockchain industry body (of which CoolBitX is a member) and the International Digital Asset Exchange Association (IDAXA) again partnered as hosts of the summit.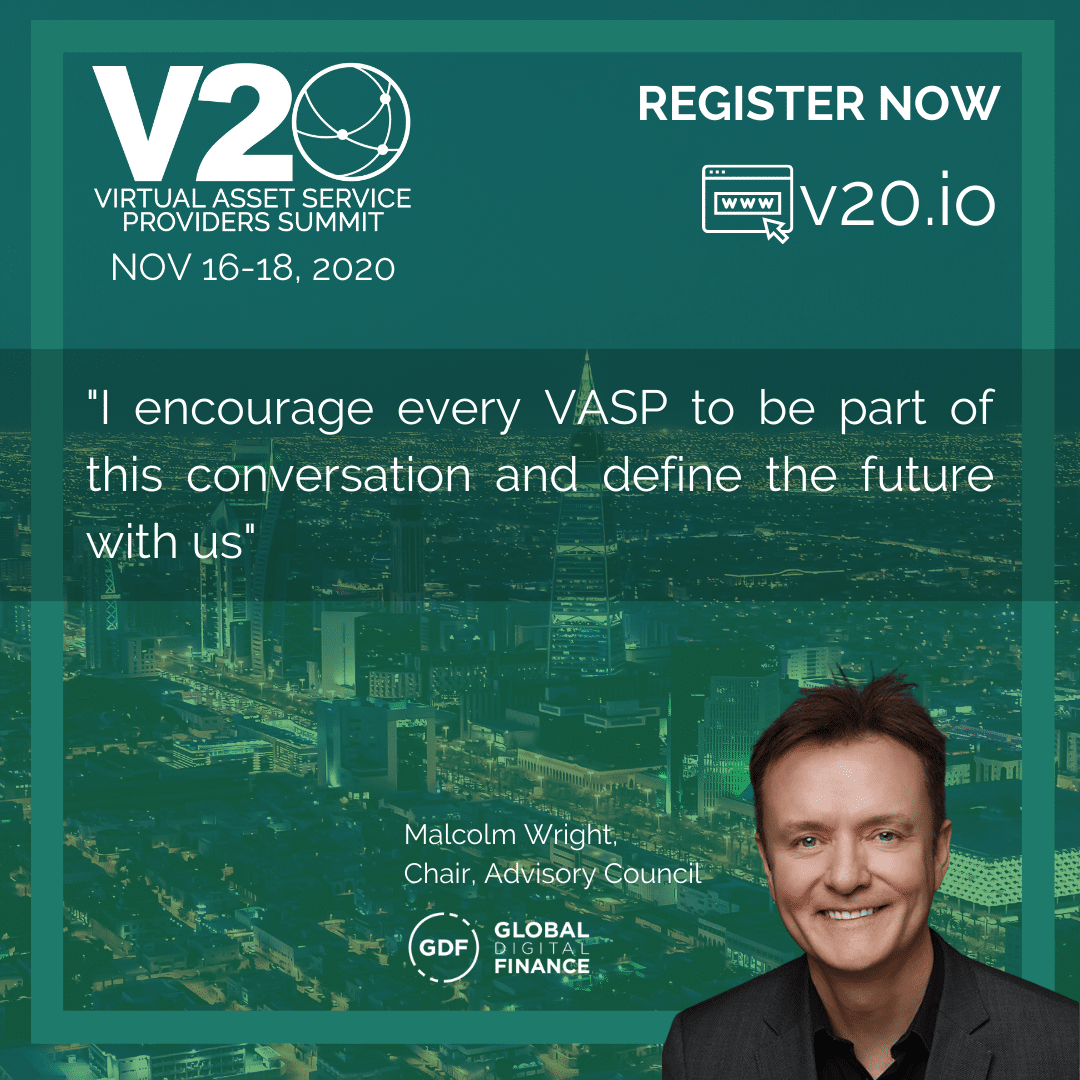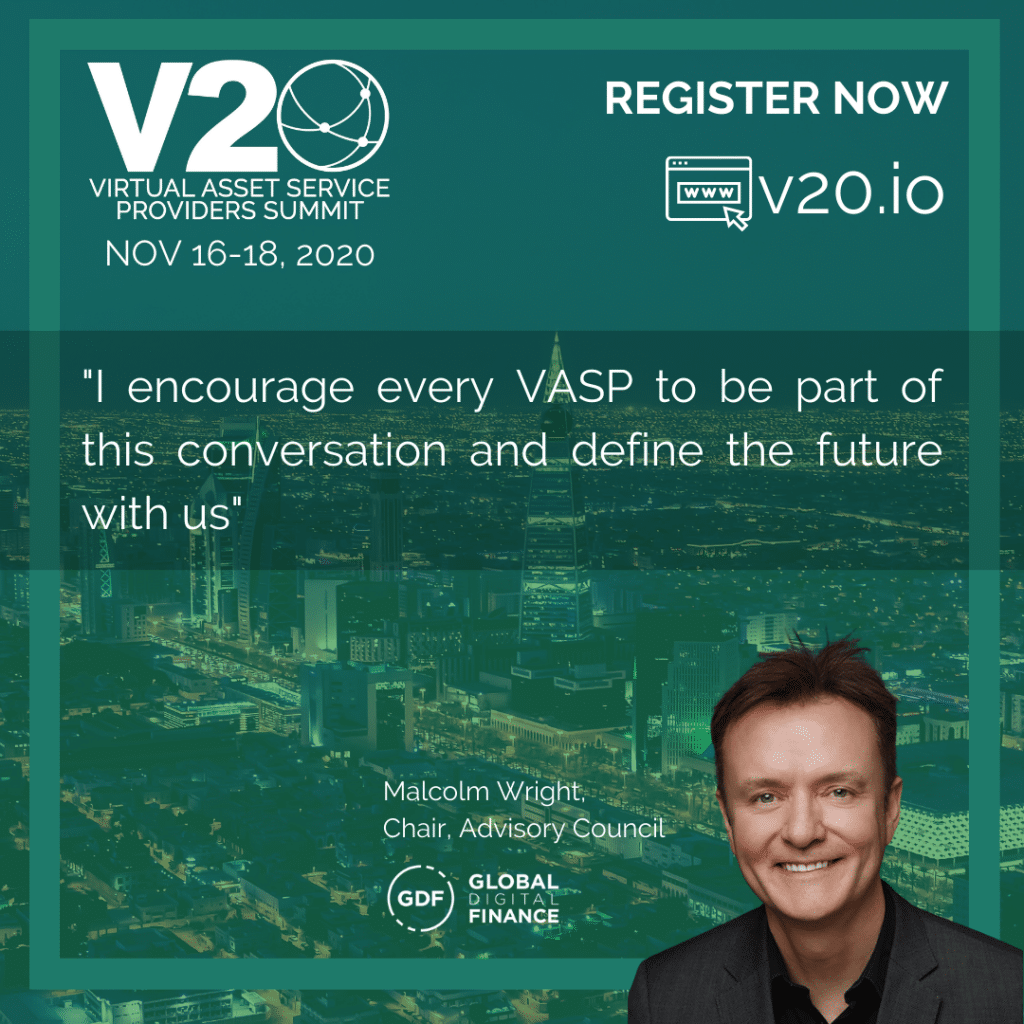 IDAXA was formed at the 2019 V20 summit to help the crypto industry engage with the FATF. Its chairman Anson Zeall acted again as V20 convener this year and is also leading the Singapore self-regulatory organization ACCESS SG, which recently released an independent assessment of the Sygna Bridge network. The Chamber of Digital Commerce also supported the virtual event.
Together the GDF, CDC and IDAXA earlier this year combined under the auspices of the Joint Working Group to release the new InterVASP Messaging Standard (IVMS101), which allows various technical solution providers to develop interoperability with each other based on a unified language data standard.
Since then, Sygna creator CoolBitX has announced an interoperability Proof-of-Concept (PoC) with Ciphertrace's TRISA, and are currently working with other technical solution providers on further tests.
Building on Osaka 2019's V20 Summit
The V20 Summit was first held last year, in parallel with the G20 summit, to foster collaboration between the nascent cryptocurrency industry and regulators to deliver a standard response to the guidelines proposed by the FATF.
At the inaugural event, more than 100 chief executives and compliance officers from VASPs and key FATF executives – former President Roger Wilkins and Senior Policy Analyst Tom Neylan – attended the summit.
As the avoidance of regulation is no longer feasible for the crypto industry, and especially VASPs, the V20 offers a voice for the industry to be heard by the FATF.
FATF promulgated its new guidelines for crypto-assets and service providers in June 2019. The new guidelines were not well received by some industry players who felt that the new recommendations would drive crypto transactions away from controlled platforms.
FATF Travel Rule Solutions Panel: "Insights on the Technical Response"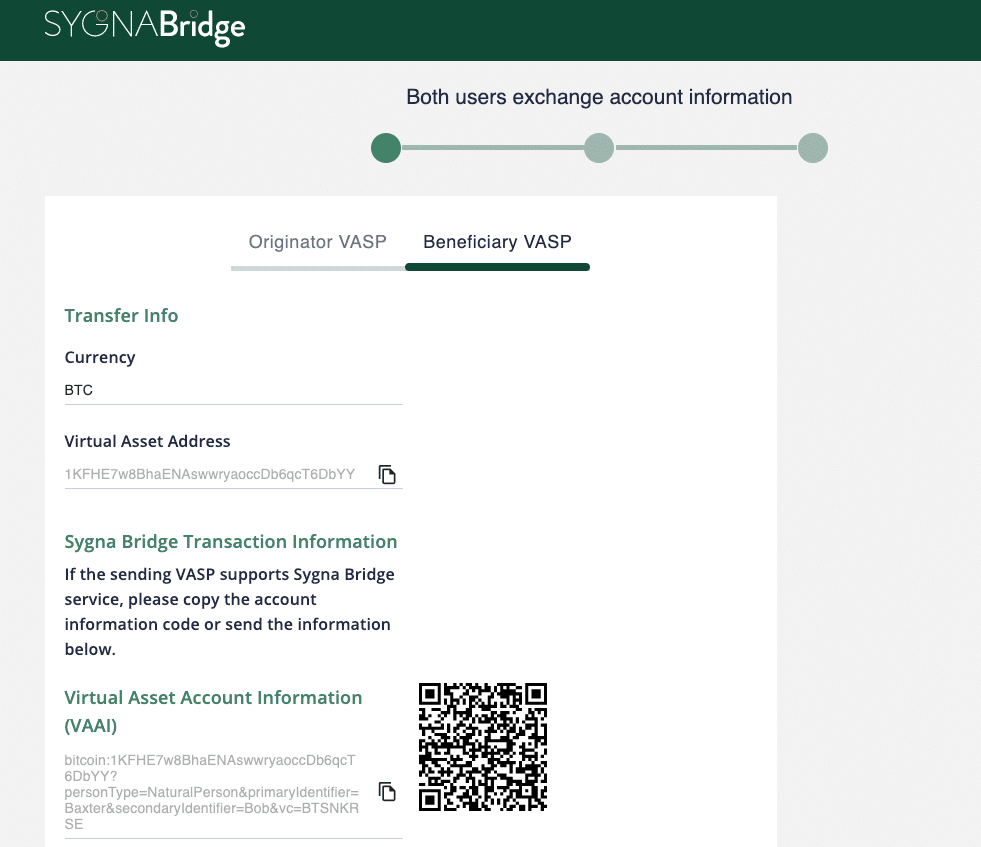 The V20 summit held a session – Travel Rule Solutions Panel: Insights on the Technical Response – on FATF's Recommendation 16. The panel was moderated by Summit Chair Mark Pesce and the panelists included Elsa Madrolle (CoolBitX Managing Director International), Filip Gospodinov (21 Analytics CTO) , Notabene CEO Pelle Braandgaard, and Shyft Network CEO Joseph Weinberg. All participants discussed and showcased their solutions in a short demo.
Madrolle conducted a well-received demo of the compliance solution in action, which visualized the workflow as well and showed the exchange of information between Korean and Taiwanese exchanges Bitsonic and BitoPro in their native languages with the help of IVMS101.
Among its new guidelines, FATF amended its Recommendation 16 "travel rule." The rule states that VASPs should collect user information for both senders and recipients and this information must be given to the beneficiary institutions. The rule wants VASPs to collect identifiable information such as date of birth, residential address and more and share this with counterparties.
This is bringing a lot of changes to the cryptocurrency industry, which was founded on the basis of transacting anonymously, and who have until June 2021 to develop and implement suitable solutions in response.
The future of crypto regulation
Still in its infancy, and pushing forward strongly in 2020 due to a worldwide pandemic and weakening U.S. dollar in the face of historic stimulus injections, the crypto industry is dynamic and clearly evolves at a faster pace than regulators can always keep up with.
This was again evident this year with the dramatic rise in decentralized finance protocols which resembles the unchecked rise (and dramatic fall) of initial coin offerings (ICOs) in 2017.
This year's V20 summit had to tackle the risks associated with stablecoins and decentralized finance (DeFi), the current crypto enfant terrible. Both fields have been called out as potential targets for Europe's incoming Markets in Crypto Assets (MiCA) regulations.
The creation of the V20 last year was the first step towards adopting international standards for responding to rules proposed by FATF.
By allowing industry players to engage with regulators, it opens up a dialog to ensure that future regulation does not stifle innovation in the crypto industry and that virtual asset adoption continues to grow without posing a greater threat to money laundering and finance terrorism.
From the discussions at V20 Summit 2020, it would seem that much work remains on both sides of the regulatory fence.